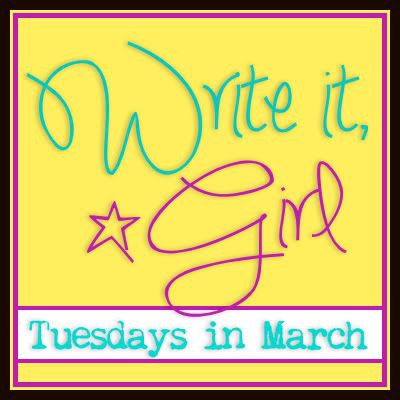 I am so excited to be linking up with Write It, Girl each Tuesday in March. What is Write, It Girl you ask…it's a time to write whatever you've got on your heart! You just write it, girl. Here's more from their about page:
"Write with confidence in your space; that little corner of the web He's given you. Ask Him to give you a vision for what He wants with your words and write it, girl."
I'd love for you to join this community where we can encourage each other and make the declaration, we are writers! Link up with Write It, Girl's new site!
*****************************************************************************
I know that I am a new creation in Christ, I have read the words from 2 Corinthians 5:17 many times, the old has passed away and the new has come. However, how many times do I struggle with what this looks like in real life? What does this new life look like in the day to day? How can I practically live this new life when I am still living in this old body in this same old world? While I'm still living in this sin-tainted world, is it possible to live as a new creation?
This morning my husband and I had an argument. It wasn't a big, knock your socks off, type of argument. However, it was still an argument none the less. In the midst of this arguing, I found myself leaning towards my sinful tendencies to get defensive, raise my voice, and place blame anywhere except on my own two shoulders.
This afternoon, as I'm reflecting on our morning encounter, I am struggling with those questions I shared above. Even more so, I am thinking about how I am supposed to be a new creation, but yet I find myself struggling with sin so often.
I open my Bible and seek to find an answer for my burdened spirit in the pages of God's Word. I find comfort in Paul's words to the Romans. Paul struggles. He fights against his sin nature. I realize again that I am not alone in my struggles against these sinful tendencies.
Through Paul's words, I remind myself that this is part of life in the already but not yet world we live in. We were already redeemed by the blood of Christ through His work on the cross and have been justified or made righteous before God. But, we have not yet been glorified, or made perfect; this is something we have to look forward to once our journey as sojourners on this globe ends.
This leaves us in the middle, in our sanctification. This is the phase of our christian life that I struggle with, as you can tell from my questions. It's the here and now, the practical part of working out what we believe, but still having to live with sin. It's a process, wherein lies the struggle for me.
In this culture, we want what we want when we want it. I'm sorry to admit that I have let this mentality soak into my view of what life as a Christian looks like. I want to be made perfect right now. I don't want to have to struggle with sin. I want to live glorified, now.
The reality is, I have to learn how to live in this world as a new creation. I have to learn what it means and what this kind of life should look like.
I find my thoughts drifting away from my sin and onto God's grace. How undeserving I am of such a costly gift, but yet God showers His grace on me, overflowing. When my sin increases, grace increases all the more. His grace is what will bring me through this process of sanctification. His grace is what I need, every day, every hour.
My husband arrives home from work and I quickly seek his forgiveness for my faults from the morning. He willingly grants me forgiveness. I continue to offer him the same forgiveness that he gives. We move on throughout our day. We move forward.
I'm a new creation. I have been set apart for the glory of God. It isn't always pretty because I'm living in the same old world with sin. However, God grants me the strength and the grace to continue to move forward each day.
I'm curious…what part of this "already but not yet" world do you struggle with most?